DCTA is keeping Denton County open for business. Since opening in 2011, our A-train commuter rail service has attracted new professionals and businesses, spurred new market investment, and expanded the countywide tax base while providing an alternative form of transportation to address air quality and cost-of-living. In addition to other countywide strengths, including a high quality of life, skilled workforce and a welcoming environment to new land development, the A-train has helped to build the local economy.
With the assistance of The Antero Group, an innovative and nationally recognized planning and engineering consulting firm, DCTA leveraged local and national statistical sources and conducted case studies of local transit-oriented development to share the business case for transit in Denton County. The following are some major findings from DCTA's research: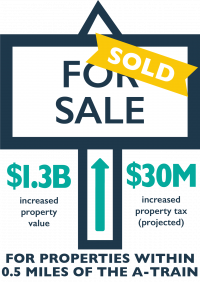 Increases the Tax Base
The A-train has spurred real estate development, brought new residents into the County, and added more retail space, all of which have boosted the tax base of its member cities:
$11.8M in new property and sales tax revenue for DCTA member cities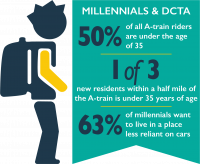 Attracts New Professionals
DCTA service helps Denton County attract upwardly mobile professionals and young earners that want to drive less frequently and commute by transit more. Since the A-train opened in 2011:
1 out of 3 new residents within one half mile of the A-train is under the age of 35
48 percent of transit commutes have come from professionals earning more than $65,000 per year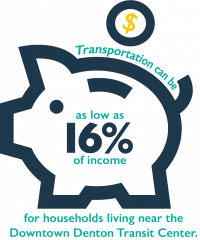 Reduces the Cost of Living
Transportation is the second highest household cost after housing. The A-train has spurred development in places where residents can take transit, walk, or bike more frequently.
Transportation costs the typical County residents 22 percent of income every year

Supports Cleaner Air
Automobile transportation plays a role in producing the emissions that affect countywide air quality, but the A-train helps mitigate these by creating an environment where residents can drive less. For instance, a household at Hebron 121 produces:
1.66 fewer tons of NOx and 0.32 fewer tons of VOC per year