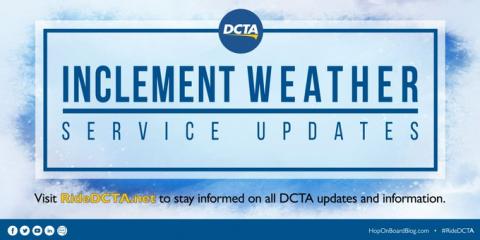 This morning, Denton County Transportation Authority (DCTA) has decided to further delay the Tuesday start of Connect Bus service in Denton until 1:00PM, due to very hazardous and icy road conditions. As previously announced, Tuesday service for GoZone on-demand rideshare service will start at 10:00 AM, but riders are advised to expect longer wait times and travel times due to the weather. DCTA began operating other services including the A-train commuter rail and Access paratransit at their normal schedules at 5:00 AM today.
DCTA will continue to monitor travel conditions and make service adjustments as necessary. As of Tuesday morning, here is a full summary of expected service for Tuesday, January 31:
Connect Bus operations in Denton will have a delayed start at 1:00 PM

A-train commuter rail service started operating its normal schedule at 5:00 AM

GoZone on-demand rideshare services will have a 10:00 AM delayed start,

but given the road conditions, customers should prepare for longer than normal trip times

Access Paratransit services will operate on a normal schedule, but given the road conditions, customers should prepare for longer than normal trip times

UNT Campus Shuttle bus service will not operate on Tuesday, as a result of the University of North Texas canceling classes for the day

North Texas Xpress bus service from Denton to Alliance Fort Worth will not operate on Tuesday
All riders should anticipate potential delays throughout the multiple-day winter weather event and dress appropriately. DCTA is also advising customers and employees to take precautions while walking to bus stops and shelters, in parking lots and on A-train platforms.
Future updates regarding service delays or interruptions will be published on the DCTA news site, RideDCTA.net/MediaCenter and through DCTA Rider Alert notifications, as well as our Facebook (RideDCTA) and Twitter (@RideDCTA) pages.
Please make sure to sign up for Rider Alert notifications to stay up to date on specific DCTA services during inclement weather. In addition, passengers should also note the Transit mobile app may not provide accurate arrival information for all DCTA vehicles during inclement weather situations.