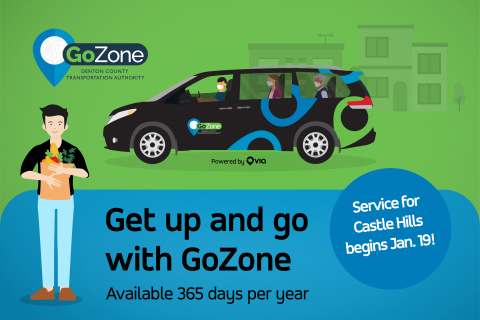 Beginning today, Denton County Transportation Authority's (DCTA) GoZone service expands to Castle Hills as a newly annexed part of Lewisville.
Whether it's running an errand or heading to the nearest A-train station, GoZone is here when it's needed, where it's needed. An on-demand rideshare service, powered by Via, riders utilize GoZone for trips within two dedicated zones: Denton and Lewisville/Highland Village GoZones. A fleet of dedicated vans is used to pick up and drop off riders at assigned virtual bus stops within the zones. Payment for GoZone can be made with a DCTA pass or purchased as single trips for $.0.75 each.
"We're happy to welcome the Castle Hills community onto DCTA's GoZone service," said Javier Trilla, Assistant Vice President of Innovation and Information Technology. "The expansion into Castle Hills was a natural extension of our Lewisville services and further ties together the community by offering a transit option that gets you anywhere within Lewisville on a single per-trip fare."
Passengers simply download the DCTA GoZone mobile app to book their trips in real time. If you don't have a smart phone, just call DCTA customer service at 940-243-0077 to create an account and book a trip. Riders can also pay with exact cash on board. The service operates 365 days per year with the following hours of operation:
Monday through Thursday from 5 a.m. to 10 p.m.

Fridays from 5 a.m. to 11 p.m.

Saturdays from 8 a.m. to 11 p.m.

Sundays and holidays from 8 a.m. to 6 p.m.
Monday through Saturdays, rides must start and end within the same zone (either Denton or Lewisville/Highland Village/Business 121), while on Sundays, riders can book rides between the zones.
If you have a special need for a vehicle with a bike rack or one which is wheelchair accessible, then it's easy to request accommodation. Call DCTA or simply use the mobile app to set the profile preference for wheelchair accessibility.
For more information about DCTA's GoZone service, visit dctagozone.net.