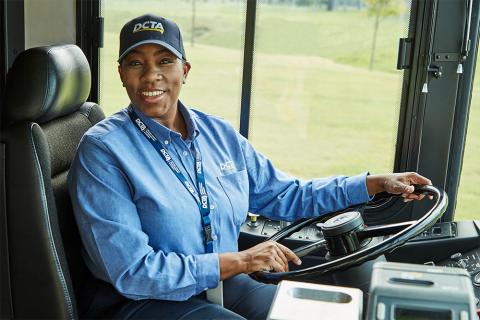 The Government Finance Officers Association (GFOA) awarded the Denton County Transportation Authority (DCTA) the GFOA Distinguished Budget Presentation Award for the agency's FY2022 budget document. This is the agency's 16th consecutive year receiving this award.
"I'm proud of our team's dedication to transparency and financial stewardship," said Chief Financial Officer/Vice President of Finance Marisa Perry.
"This award represents a significant achievement for DCTA as it reflects our commitment to meeting the highest principles of governmental budgeting," said DCTA Senior Budget Manager Amanda Riddle.
GFOA established the Distinguished Budget Presentation Awards Program (Budget Awards Program) in 1984 to encourage and assist state and local governments to prepare budget documents of the very highest quality that reflect both the guidelines established by the National Advisory Council on State and Local Budgeting and the GFOA's best practices on budgeting and then to recognize individual governments that succeed in achieving that goal.
There are over 1,700 participants in the Budget Awards Program. Recipients have pioneered efforts to improve the quality of budgeting and provide an excellent example for other governments throughout North America. To earn recognition, budget documents must meet program criteria and excel as a policy document, financial plan, operations guide and communication tool.
For more information, visit RideDCTA.net.