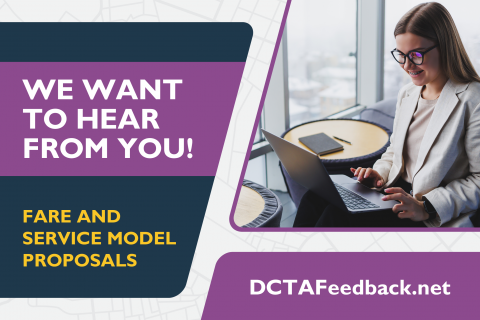 Denton County Transportation Authority (DCTA) wants to hear from its riders! Join DCTA's first in-person listening session at 6 p.m. on Monday, May 2 at Lewisville City Hall. The public is invited to join the conversation and let DCTA know their thoughts about our fares and services.
DCTA is considering updates to both service and fare models. The goal is to improve access to services and increase efficiency. What we are considering:
1. Updating fixed routes to maximize efficiency and ridership.
2. Updating GoZone service to improve access.
3. Updating fares and pricing to best meet the needs of our passengers.
Another in-person meeting is being held at 6 p.m. on Wednesday, May 11 at the Downtown Denton Transit Center. Everyone is welcome to provide feedback. We are particularly interested in hearing from current and former riders, social service agencies and clients, transit dependent riders and local employers. Results from the public comment period along with the analyses of fixed route service, GoZone service and fares are scheduled to be presented to the Board in June.
The meetings provide an opportunity to speak with individual DCTA staff members and other attendees to better understand the options and share feedback. Staff will also be available to take comments at community outreach events, plus online at dctafeedback.net via an idea wall, interactive map and by survey. Once completing the short survey, participants will be entered to win a $100 Amazon gift card. Public feedback will be presented to the board this summer for consideration.
To request a presentation during the public comment period or for special accommodations due to a disability, language translation needs and to request printed copies of information discussed, contact Mary Worthington at least 72 hours prior to the meeting at mworthington [at] dcta.net or 972-316-6121.
More information, including a schedule of events, is available online at dctafeedback.net. The public comment period runs through June 2022.