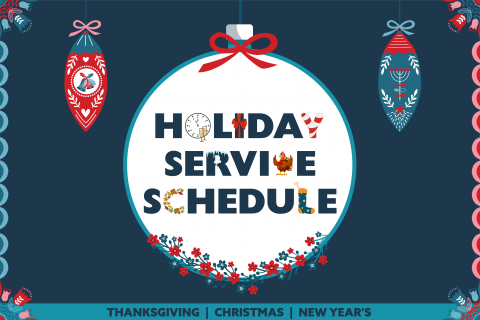 Get wrapped up in the Denton County Transportation Authority's (DCTA) modified holiday schedule and plan your trip in advance. The agency reminds passengers to review its 2021-2022 holiday service schedule. Below are key DCTA modified holiday schedule dates riders should keep in mind this winter season:
Connect Bus* and Access Services
Thanksgiving Day (Thursday, November 25, 2021) – No Service

Day After Thanksgiving (Friday, November 26, 2021) – Regular Service

Christmas Eve (Friday, December 24, 2021) –Regular Service

Christmas Day (Saturday, December 25, 2021) – No Service

Day After Christmas (Sunday, December 26, 2021) – No Service

New Year's Eve (Friday, December 31, 2021) – Regular Service

New Year's Day (Saturday, January 1, 2022) – No Service

Day After New Year's (Sunday, January 2, 2022) – No Service
A-train
Thanksgiving Day (Thursday, November 25, 2021) – No Service

Day After Thanksgiving (Friday, November 26, 2021) – Saturday Service

Christmas Eve (Friday, December 24, 2021) –Regular Service

Christmas Day (Saturday, December 25, 2021) – No Service

Day After Christmas (Sunday, December 26, 2021) – No Service

New Year's Eve (Friday, December 31, 2021) – Regular Service

New Year's Day (Saturday, January 1, 2022) – No Service

Day After New Year's (Sunday, January 2, 2022) – No Service
GoZone
Thanksgiving Day (Thursday, November 25, 2021) – Sunday Schedule

Day After Thanksgiving (Friday, November 26, 2021) – Regular Service

Christmas Eve (Friday, December 24, 2021) – Regular Service

Christmas Day (Saturday, December 25, 2021) – Sunday Schedule

Day After Christmas (Sunday, December 26, 2021) – Sunday Schedule

New Year's Eve (Friday, December 31, 2021) – Friday Schedule

New Year's Day (Saturday, January 1, 2022) – Sunday Schedule

Day After New Year's (Sunday, January 2, 2022) – Sunday Schedule
Frisco Demand-Response and Collin County Transit
Thanksgiving Day (Thursday, November 25, 2021) – No Service

Day After Thanksgiving (Friday, November 26, 2021) – Regular Service

Christmas Eve (Friday, December 24, 2021) –Regular Service

Christmas Day (Saturday, December 25, 2021) – No Service

Day After Christmas (Sunday, December 26, 2021) – No Service

New Year's Eve (Friday, December 31, 2021) – Regular Service

New Year's Day (Saturday, January 1, 2022) – No Service

Day After New Year's (Sunday, January 2, 2022) – No Service
North Texas Xpress (Route 64)
Thanksgiving Day (Thursday, November 25, 2021) – No Service

Day After Thanksgiving (Friday, November 26, 2021) – Regular Service

Christmas Eve (Friday, December 24, 2021) –Regular Service

Christmas Day (Saturday, December 25, 2021) – No Service

Day After Christmas (Sunday, December 26, 2021) – No Service

New Year's Eve (Friday, December 31, 2021) – Regular Service

New Year's Day (Saturday, January 1, 2022) – No Service

Day After New Year's (Sunday, January 2, 2022) – No Service
Downtown Denton Transit Center (DDTC)/Customer Service Call Center
Thanksgiving Day (Thursday, November 25, 2021) – Closed

Day After Thanksgiving (Friday, November 26, 2021) – DDTC Closed, Customer Service Call Center Open

Christmas Eve (Friday, December 24, 2021) – 7 to 11 a.m. and 1 to 6 p.m.

Christmas Day (Saturday, December 25, 2021) – Closed

Day After Christmas (Sunday, December 26, 2021) – Closed

New Year's Eve (Friday, December 31, 2021) – 7 to 11 a.m. and 1 to 6 p.m.

New Year's Day (Saturday, January 1, 2022) – Closed

Day After New Year's (Sunday, January 2, 2022) – Closed
PLEASE NOTE: The DDTC lobby is open at limited capacity to encourage social distancing. During the midday break, the lobby is sanitized and cleaned. Visit RideDCTA.net/health to get the latest DDTC facility updates.
The University of North Texas (UNT) Campus Shuttles operate limited or no service as early as mid-December for the winter break. Be sure to check the UNT website for exact dates on when campus shuttles provide service during the holiday break at transportation.unt.edu.
For more information and trip planning assistance, please call the agency's customer service team at 940-243-0077. Visit DCTAGoZone.net to learn more about our on-demand rideshare service.
*Connect service after December 6, 2021 subject to change based on DCTA Board of Directors meeting on December 2.