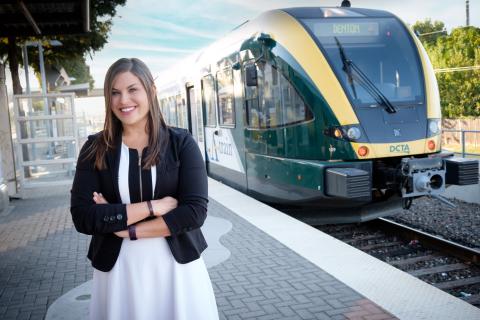 Brittney M. Farr, director of government relations, is named as one of Mass Transit's annual 40 Under 40 honorees. The program recognizes individuals for their industry contributions and who have shown a capacity for innovation, demonstrated leadership and a commitment to making an impact in transit.
After nearly nine years with DART, Brittney M. Farr joined the Denton County Transportation Authority (DCTA) as its new director of government relations in September 2021. Farr is responsible for DCTA's local, state and federal legislative strategy and engagements, and maintaining relationships with elected and appointed officials, chambers of commerce, school districts, higher education, businesses and non-profits. Farr also represents the agency within local communities, at regional meetings and industry-wide events to meet agency interests, needs and objectives by identifying and establishing strategic partnerships.
Farr joined DART in 2013 where she demonstrated a tireless commitment to the agency and its mission of improving mobility and economic opportunity for all residents of its 13-city service area while pushing the agency to act intentionally to connect transit to solving the region's challenges of human trafficking, food insecurity, workforce access and homelessness. Her efforts helped DART achieve notable results in these areas and supported its goal to educate the transit industry about the role of transit agencies in creating solutions to these problems.
"The thing I enjoy the most is knowing the difference we make every day in people's lives. They may not know us, and sometimes they may even be really mad at us, but at the end of the day, for so many people, transit is the only way they get to work, school, the doctor, the grocery store, wherever," said Farr. "Being a part of making people's lives better is far and away the best part of my job."
The evaluation committee read more than 150 nominations for this round of awards. Criteria for selection included such things as job commitment, industry involvement and contribution, achievement in his or her position and innovation in his or her field. The evaluation process resulted in a group of young professionals who represent a diverse cross section of skills and disciplines required to make this industry what it is.
For more information about Mass Transit's 40 Under 40, visit https://bit.ly/30UNeMc.