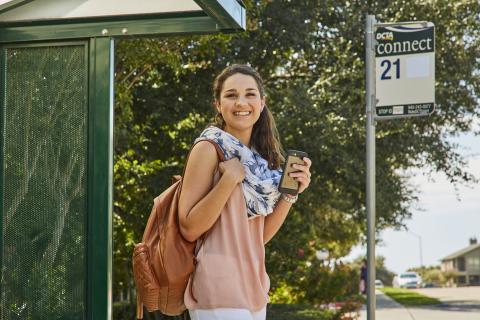 Major service changes are coming to Denton County Transportation Authority (DCTA) Connect bus service after the board of directors voted to discontinue Denton Connect Route 1 and Lewisville Connect Routes 21 and 22 beginning December 25. Riders are encouraged to utilize GoZone as a replacement service for these routes.
"With the launch of GoZone, we have seen system-wide ridership reach pre-pandemic levels in just a few months. I'm pleased that the board made a decision that will move the agency forward using a multimodal approach," said DCTA CEO Raymond Suarez.
GoZone, which began service on September 7, is an on-demand rideshare service, powered by Via, that riders can utilize for trips within two dedicated zones: Denton and Lewisville/Highland Village GoZones. A fleet of dedicated vans pick up and drop off riders at virtual stops within the zones 365 days per year. Passengers can ride GoZone for free with a DCTA pass or purchase a single trip for the promotional price of $0.75. Decisions on the overall fare structure will be made at a later date.
Denton Connect Route 1 and Lewisville Connect Routes 21 and 22 will continue to operate through Christmas Eve. After that, riders can utilize GoZone for their public transportation needs.
For updated information, visit RideDCTA.net.