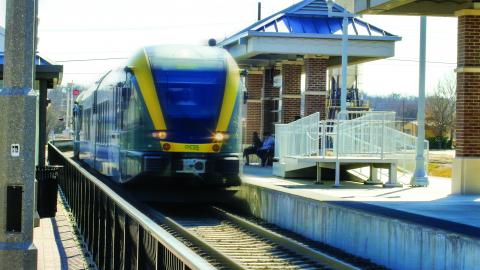 The Denton County Transportation Authority (DCTA) received two first place honors for the 2021 Marketing Spotlight Awards, hosted by the South West Transit Association (SWTA), which recognizes excellence in marketing and outreach efforts produced by transit providers across SWTA's eight-state region.
The awards – reviewed and judged by marketing and communication professionals at transit agencies and private marketing firms – are among the oldest awards recognizing marketing campaigns and projects in the public transportation industry, first awarded in 1990. Winners are selected from submissions in categories of different-sized transit systems and for multi-platform marketing campaigns along with specific print, electronic, social and event media projects.
"Despite the challenges COVID-19 presented, our team made it a top priority to find creative and strategic ways to implement important agency projects that were well-received and now have been rognized by SWTA as some of the best in the southwest region," Adrienne Hamilton, DCTA Senior Marketing and Communications Manager said.
DCTA received two first place awards in the following categories:
(Print Media) Safety Coloring Book

for Strategic Community Outreach – the main goal was to provide a fun and educational coloring book highlighting key DCTA services for the Denton community that was interesting to kids and adults.

(Electronic Media) GoZone Microsite Launch for Strategic Public Involvement

– the main goal was to drive engagement to the project microsite to collect passenger, stakeholder and resident feedback and ideas for DCTA's proposed on-demand rideshare service.
SWTA is a regional transit association serving eight states – Arizona, Arkansas, Colorado, Kansas, Louisiana, Oklahoma, New Mexico and Texas. Its mission is to provide a community of education, communication, and advocacy to strengthen our members and their ability to better provide public transportation services and products in the communities they serve.