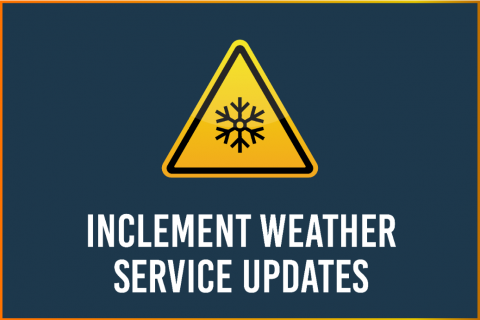 Last Updated on Tuesday, March 9
DCTA will post any weather updates here if there is an impact on service. Learn how DCTA operates during severe weather below.
Does DCTA Operate During Severe Weather?

Yes! The severity of the weather will dictate the level of service provided. Our Operations team closely monitors and evaluates inclement weather conditions throughout DCTA's system. Safety is our top priority during a winter weather event. The operations team will take action if they see that a situation is potentially unsafe for passengers, operators, and vehicles.

Any time severe weather hits, delays should be expected throughout the day. It's important to always be prepared for inclement weather during your commute with DCTA. Passengers should also note that during these times the Transit Tracker may not provide accurate arrival time information for DCTA vehicles.

How Can I Prepare for Severe Weather?

Stay Informed

Sign up for our Rider Alerts! These alerts are a great way to stay updated for any DCTA reroutes, service delays, detours, and more. They are completely customizable with key features including:

Flexibility – Users can select specific DCTA services, routes, etc. in their subscription
Details – Users can choose from an extensive topic list to meet their personal travel needs
Customization – Users can choose Rider Alert delivery preferences including instant, daily or weekly communications
Major Service Suspension Notifications – Users can receive text message notifications for lengthy service suspension announcements

Be Extra Cautious
Riders are encouraged to be careful when walking through the train station parking lots, sidewalks, and on platforms. Wait in a clear area to make sure you are visible in the dark mornings and evenings. Do not stand too close to the curb as the bus approaches the stop. Snow, ice or standing water may cause the bus to slide as it comes to a complete stop. Board the vehicle carefully and try to shake off any excess water or snow to help prevent slippery floors on the bus and A-train. Lastly, be extra careful when exiting the vehicle as the train platform or street may be slippery.

You can also check our Facebook and Twitter pages for service updates or call our Customer Service team at 940.243.0077 if you have any questions.

Know Your Service
Inclement weather can cause major delays throughout our system. It's important to be familiar with your surroundings as well as our services. Make sure you have our system map and route guides readily available to you in case a major service delay occurs. If your usual route is suspended or delayed, it's helpful to know an alternate route that can get you to your desired destination!

Dress for the Season
Whether it's rain or snow, make sure you're dressed for the potential severe weather depending on the season.

Tornado and Severe Rain Operations Plan

If there is a tornado watch in Denton County, we will continue to operate our services under extreme caution. If there is a tornado warning, the driver or conductor must hold the passengers until the warning is lifted.

We follow a series of procedures and guidelines when severe weather is expected. Our Bus and Rail Operations team monitors the weather conditions and takes appropriate action in order to keep our passengers, staff, and the general public safe. Bus operators are expected to drive with caution during heavy rainfall and hail. The A-train operates on a normal schedule during heavy rainfall and thunderstorms. Service delays are possible during severe thunderstorms.

University of North Texas (UNT) shuttle services are adjusted depending on the severity of the weather. In the event campuses close, we will continue service for those departing from campus. The length of service is determined on the weather conditions and communication with campus representatives.


What Should I Do in Case of a Tornado Warning While Riding DCTA?

It's important to plan your trips accordingly and stay up to date with weather conditions. If you are standing at the bus stop or A-train platform, seek immediate shelter.

If there is a tornado warning, the bus operator or A-train conductor must hold the passengers in a safe location until the warning is lifted. If the vehicle is in route when the operator becomes aware of the tornado warning, the driver must go to the nearest stable facility and take all passengers inside.

If there is no time to evacuate the vehicle, passengers should place their heads between their legs so that they are below window level. All passengers should wait until the storm passes.

Passengers should not exit the bus or A-train if the operator is aware or suspects power lines are down in the area. Your safety is our top priority! Always listen to the operator's safety instructions.

What Happens if Parts of My Route Become Flooded?

It is never safe to drive or walk into floodwaters. According to the National Weather Service, it takes 12 inches of flowing water to carry off a small car, and up to 24 inches for larger vehicles! If you see that a bus stop or road is underwater, turn around and seek a different route. You can also call our customer service team at 940.243.0077 to get more information about reroutes or detours.

If we receive reports of unsafe road conditions, our operations team will make temporary modifications to bus and rail service such as detours or service delays until further notice. We will send out Rider Alerts to passengers when these modifications are confirmed. A-train service will continue as normal, however, in rare cases of severe flooding, a bus bridge may be provided for passengers.

Winter Weather Operations Plan

In most instances of freezing rain or ice, we will run regular schedules for our services. However, passengers may experience delays throughout the day. If the weather is more severe, we will operate a Saturday schedule for services. We may consider a partial or full suspension of service if rain or ice makes it unsafe for our operators and passengers to be out on the roads. In the event of service suspension, we will coordinate messaging with our regional public transit partners.


How Does DCTA Prepare for Snow and Ice?

Our staff treats the public areas around the Downtown Denton Transit Center (DDTC), including the rail platforms and bus stops, in the bus transfer lane. Although these areas are treated for icy conditions, we still encourage riders to be aware of slippery areas when walking to the platform or bus stops. Our operators are also issued ice cleats for walking. We highly recommend them for passengers when walking on ice!