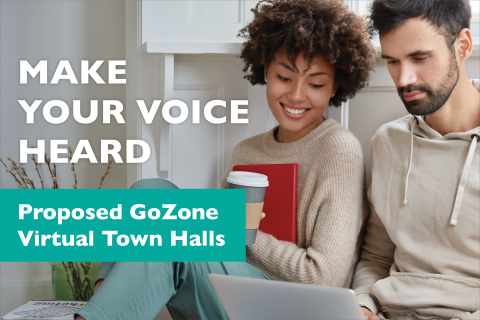 The Denton County Transportation Authority (DCTA) is hosting virtual town hall meetings for those who want to learn more about the proposed GoZone on-demand rideshare service that will replace a majority of the agency's Denton and Lewisville Connect Bus routes and on-demand services. Come prepared with comments and questions for a direct conversation with DCTA staff.
The virtual meetings will be conducted through Zoom. Meeting links will be available by visiting our GoZone microsite Public Events page.
PLEASE NOTE: No advance registration is required, however, there will be limited participant capacity for all meetings. Below are the dates of the upcoming town halls:
Thursday, May 27

at 6 p.m.

Wednesday, June 2

at 3 p.m.

Thursday, June 8

at 12 p.m.

Wednesday, June 16

at 6 p.m.
How GoZone Works
GoZone is an on-demand rideshare service, powered by Via, that riders will be able to utilize for trips within, and sometimes between, designated zones in Denton County. The proposed on-demand service will utilize a mobile app where passengers can book their trips in real-time.
A fleet of dedicated vans will be used to pick up and drop off riders at virtual stops within the zones. GoZone will provide safe, convenient, accessible, and affordable rides with a limited wait time.
GoZone will cover areas currently served by fixed-route and on-demand zones. In some cases, the proposed service will extend beyond the agency's current service structure.
Ways to Provide Feedback
In addition to providing feedback at the virtual town hall events, individuals can provide feedback at DCTAfeedback.net and at in-person events until June 25. On the GoZone microsite, individuals can view the full proposed GoZone service plan and provide feedback by using the following engagement tools:
The service map shows the borders of each zone and allows you to zoom in on specific areas within the map and leave targeted comments. You can leave a marker on the map explaining something you like, something you don't like, an idea or a suggestion, or leave a general question. View the map tutorial here.
Love sticky notes? Make sure to visit the Ideas Wall which allows you to create a color-coded comment card to leave your feedback for the various GoZone topics featured. You can also join the conversation and respond to other user's comments. View the Ideas Wall tutorial here.
This forum showcases the proposed fare structure that will be in effect the first six months of the proposed GoZone service. You can review the fare structure, take our quick fare survey and post your comments on the forum.
Another simple way you can provide feedback is by taking our quick "General GoZone Service" survey, which is also available on both the Ideas Wall and the Interactive Service Map web pages. You can access our survey page here.
If your organization would like a presentation during the public involvement process, please contact Mary Worthington at mworthington [at] dcta.net () or 972-316-6121.
To learn more about our proposed GoZone on-demand rideshare service and to make your voice heard, visit DCTAfeedback.net.