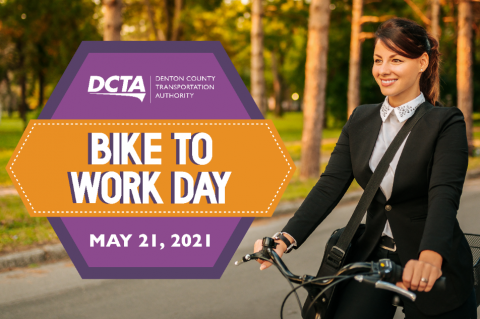 Gear up for Bike to Work Day with the Denton County Transportation Authority (DCTA) as we will offer free rides on Friday, May 21, to passengers who bring their bike onboard select agency vehicles. At DCTA, we are joining many across the U.S. to celebrate Bike to Work Day, an annual, nationwide event that encourages people to try biking as a part of their commute during National Bike Month.
Bring Your Bike to #RideDCTA Free
Passengers who bring their bikes onboard can ride the following DCTA services for free:
A-train Commuter Rail

Connect Bus (Denton and Lewisville)

DDTC Evening & Lewisville Lakeway On-Demand

University of North Texas (UNT) Campus Shuttles
DCTA services not listed above do not qualify for the free ride promotion. Most of our buses are equipped with a bike rack located on the exterior front of the bus. Passengers need to make sure the vehicle can safely accommodate a bicycle, then they will be allowed to ride DCTA free. Those who plan to transfer to the Dallas Area Rapid Transit (DART) will need to have valid fare for that portion of their trip.
How to #BikeDCTA the Safe Way
Last year for National Bike Month, we revamped our bike webpage. The new page includes bike safety tips, how to #BikeDCTA with ease, local organizations and resources and more. Watch our video to learn more about what the webpage has to offer.
It's important every cyclist ensures they're following safe cycling practices. Below are a few key tips to keep in mind:
Look both ways before you cross
Stop for flashing red lights

Always wear a helmet

Utilize official hand signs during your ride

Make sure bags and other items are securely fixed to you or your bike