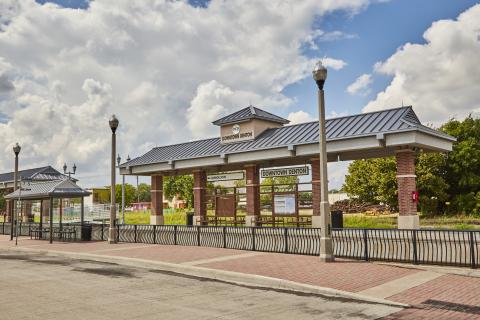 The Denton County Transportation Authority (DCTA) recently elected new board officers during the agency's October board meeting. City of Denton Mayor Chris Watts was elected Board Chairman, Denton County representative Cesar Molina was elected Vice-Chair and Denton County representative Sam Burke was re-elected Secretary.
The agency's board is governed by a five-voting-member board appointed by respective entities from Denton County and the cities of Denton, Highland Village and Lewisville serving two-year terms. Lake cities, small cities and other Denton county cities make up the remaining six non-voting members.
"At DCTA, we believe changes in leadership foster new ideas and innovation across our agency," DCTA CEO Raymond Suarez said. "We are excited to welcome our new board officers and look forward to receiving their guidance to help us continue our mission of improving air quality, economic development, mobility and livability in North Texas."
More about Chris Watts
Chris Watts is serving his third term as Mayor of the City of Denton. He previously served three terms as a Denton Council Member. Watts attended Denton High School and the University of North Texas and holds a Bachelor's in Computer Science and a Master's in Education Counseling and Student Services. In 1990, Watts switched career paths to real estate and investing. He later attended Texas Wesleyan University School of Law, received his Doctor of Jurisprudence and pursued a career in real estate law.
More about Sam Burke
Sam Burke is a fifth-generation Texan. Born in Denton, Burke grew up in Krum, TX, graduated from Krum High School and attend Austin College where he received a bachelor's degree in Liberal Arts. He went on to Texas Tech School of Law and after receiving his law degree, returned to Denton where he has practiced law his entire career. Burke has served on Corinth's City Council since October 2015 and is currently Corinth's Mayor Pro Tem.
More about Cesar Molina
Cesar Molina received his bachelor's and master's degree in civil engineering at Texas A&M University. Molina recently retired from the city of Carrollton after 23 years and joined Halff Associates as a business development manager. He is an innovative professional that developed solutions to transform the city of Carrollton. Molina's experience includes traffic signal timing, signal design, traffic control plans, transportation planning and more.
DCTA's voting board makeup is as follows:
Board Chairman: Chris Watts (Denton), Vice-Chair: Cesar Molina (Denton County), Secretary: Sam Burke (Denton County), Dianna Costa (Highland Village), TJ Gilmore (Lewisville), John Ryan (Denton Alternate), Shannon Joski (Denton County Alternate), Paul Christina (Denton County Alternate), Charlotte Wilcox (Highland Village Alternate) and Kristen Green (Lewisville Alternate).
The non-voting board makeup is as follows:
Tom Winterburn (Corinth), Connie White (Small Cities), Mark Miller (Flower Mound), Dennie Franklin (Frisco) and Joe Perez (The Colony).