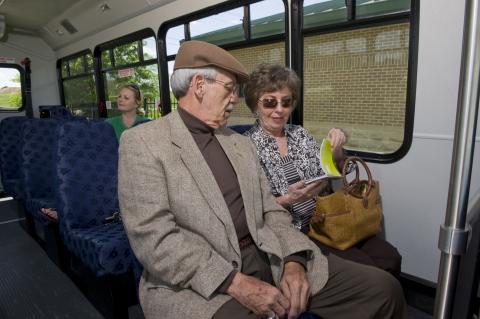 United Way of Denton County (UWDC) and the Denton County Transportation Authority (DCTA) jointly announced a pilot program to overcome one of the number one barriers to Veterans accessing services and resources – transportation.
DCTA will provide UWDC with a kick-starter donation of Lyft gift cards and Irving Holdings (parent company of Yellow Cab) debit cards, to provide Veterans a choice of demand-response services so they have enhanced and flexible access to available healthcare, financial, legal, and employment services in Denton County, which is home to more than41,000 Veterans. Lyft is an on-demand app-based and real-time transportation solution.
"Access to transportation continues to be a top request from Veterans and their families served through the Veteran Community Navigator program," explained Gary Henderson, President & CEO of United Way of Denton County. "This partnership with DCTA is a tremendous service in providing our Veterans with increased access to resources not located along a bus route or A-train corridor."
DCTA is providing the following mobility options to UWDC for use by Veterans as part of the new Veterans-in-Crisis Transportation pilot program:
50 $15-Lyft gift cards

40 $50-Lyft gift cards

20 Regional Day Passes for use on DCTA, DART, and Trinity Metro bus and rail

10 $100 Irving Holdings debit cards
Irving Holdings will provide taxi cab service with at least two hours' notice for dispatch to send a vehicle, while Lyft will meet more immediate and last-minute transportation needs. The value of DCTA's total donation is estimated at $3,168.
"Partnering with United Way of Denton County to provide more mobility options for those who have courageously served our country is top-of-mind for us," said Raymond Suarez, DCTA CEO. "There is a definite need to enhance transportation for Veterans in Denton County, and DCTA is fully involved to help provide them access to lifeline resources to improve their quality of life."
These mobility option cards will be distributed to pre-selected clients based on need as determined by UWDC and the Veteran Community Navigators. If the program proves successful, DCTA and UWDC will work together to identify future grant funding opportunities to sustain the program long-term.