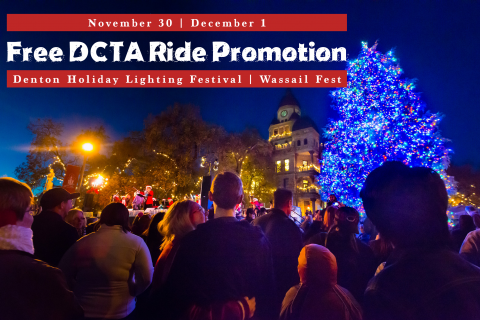 The Denton Holiday Lighting Festival kicks off its 30th celebration on Friday, November 30, from 5:30 to 9:30 p.m.! Get ready for characters, carols and bright lights as you make your way around the square, celebrating the start of the holiday season. Don't forget that various vendors on the Denton square will be providing fresh wassail to patrons during both the Denton Holiday Lighting Festival on Friday, November 30, and on Saturday, December 1, from 1 to 4 p.m.
Skip parking hassles and ride our A-train and Denton Connect buses for FREE to both festivals when you say the secret code word JINGLE BELLS. Don't forget that you can park at our MedPark station and have easy transit access to the festival.
For more information about these Christmas fun-filled events, visit dentonholidaylighting.com.