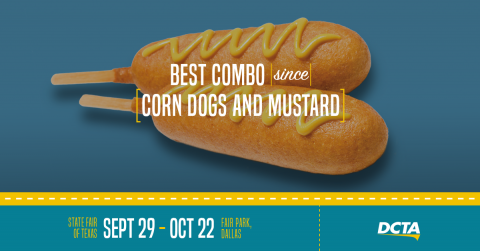 For the 2017 State Fair of Texas, the Denton County Transportation Authority (DCTA) is offering fair goers a ticket combo discount. Fair goers can purchase an adult State Fair of Texas ticket through DCTA and receive a 25 percent discount on a regional day pass. The total price for DCTA's promotional ticket combo is $20.50. Riders can purchase their ticket combo online at DCTAdeal.net or in person at the Downtown Denton Transit Center (DDTC).
The promotion is valid for a standard regional day pass only and is not valid with any other DCTA fares, passes, promotions or discounts. The regional day pass and State Fair of Texas ticket must be purchased together to get the 25 percent discount on the transit fare and fair ticket price of $13. No refunds or exchanges will be given after purchase of the ticket combo. DCTA regional day passes are valid on DCTA Monday through Saturday only. People will be able to purchase DCTA's State Fair of Texas ticket combo online through Saturday, October 14, and at the DDTC through Saturday, October 21.
During the fair, DCTA will operate regular bus and A-train service. Fair goers can board the A-train at any of the five rail train stations, transfer to the Dallas Area Rapid Transit (DART) Green Line at Trinity Mills, and have front door service to Fair Park at either the MLK Station or Fair Park Station. As a reminder, the A-train does not meet every DART Green Line train. DCTA encourages fair goers to plan their trip using the agency's State Fair online planning toolkit for detailed travel information and DCTA's new Transit Tracker system for real-time arrival information.
STATE FAIR TICKET COMBO GIVEAWAY CONTEST
DCTA is partnering with We Denton Do It and Dentonaut (prominent local bloggers) to give away 10 free DCTA State Fair of Texas ticket combos and swag. As part of the contest, participants have to submit a short response on why they should win a DCTA State Fair of Texas ticket combo.
After the contest ends, We Denton Do It and Dentonaut will host a "State Fair Rider Group" which will consist of the 10 contest winners and both bloggers for a fun trip to the fair on Saturday, October 14 (only date free ticket combo giveaway packages can be redeemed). The contest will launch Monday, September 25, and participants will have until Wednesday, October 4, to submit their entry. All winners will be notified by Monday, October 9. More contest information available here: https://www.dcta.net/news-events/2017-state-fair/dcta-state-fair-of-texas-ticket-combo-giveaway-contest
For more information on the DCTA State Fair of Texas ticket combo, online planning toolkit and giveaway contest, visit DCTAdeal.net.