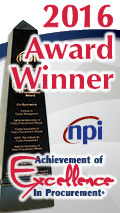 The Denton County Transportation Authority (DCTA) has been awarded the prestigious 21st Annual Achievement of Excellence in Procurement® (AEP) for 2016 from the National Procurement Institute, Inc. (NPI). The AEP Award is earned by public and non-profit organizations that obtain a high application score based on standardized criteria. The AEP program encourages the development of excellence, as well as continued organizational improvement to earn the award annually.
In 2016, there were 202 successful applicants including 48 counties, 72 cities, 25 higher education agencies, 23 school districts, 21 special districts, and 13 state agencies. This is the first time that DCTA has applied and received this prestigious award. In addition, DCTA was one of only 28 agencies in Texas to receive the AEP Award.
"Receiving this award for the first time is no small task and is a great achievement for DCTA. It reflects the commitment of our senior procurement manager Athena Forrester and procurement coordinator Jeremy Lewallen to helping guide the expenditure of public dollars at DCTA with a clear focus on procurement best practices," said Anna Mosqueda, DCTA Chief Financial Officer. "We will continue to pursue a standard of excellence that reflects the values established by the DCTA Board of Directors."
In 1995, NPI established a program designed to recognize organizational excellence in public procurement. The AEP is awarded annually to recognize innovation, professionalism, e-procurement, productivity, and leadership in the procurement function. This prestigious award is earned by those organizations that demonstrate excellence by obtaining a high score based on standardized criteria.