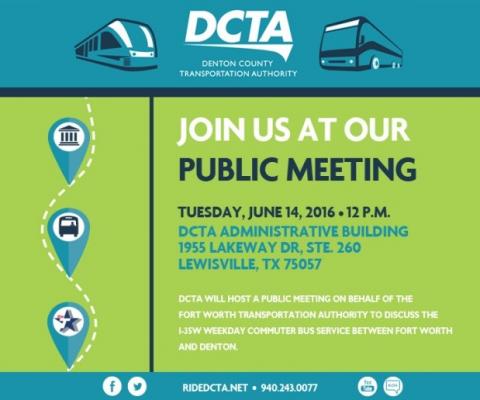 The Denton County Transportation Authority (DCTA) will host a public meeting on behalf of the Fort Worth Transportation Authority (FWTA) to discuss proposed Interstate 35W (I-35W) weekday commuter bus service between Fort Worth and Denton. DCTA's public meeting will be held in conjunction with the agency's Program Services Committee meeting on Tuesday, June 14, at 12 p.m. at DCTA's administrative office located at 1955 Lakeway Drive, Ste. 260 in Lewisville, TX.
In addition to DCTA's public meeting, FWTA will also host public meetings to present information about the proposed I-35W commuter bus service. Listed below are FWTA's public meeting dates, times and locations:
Wednesday, June 15, at 7 p.m.
North Park YMCA
9100 N. Beach Street
Fort Worth, TX 76244
Thursday, June 16, at 6 p.m.
Fort Worth Central Station
1001 Jones Street
Fort Worth, TX 76102
The bus route will primarily operate along I-35W between Fort Worth and Denton. The new service will provide a valuable connection between both cities with transfer opportunities that could include the University of North Texas (Denton campus), Texas Women's University (Denton campus), University of North Texas Health Science Center (Fort Worth), and major employers in both cities. The proposed FWTA I-35W weekday commuter bus service is scheduled to launch fall 2016.
Everyone is welcome to attend the public meetings. Persons with hearing or sight interpretive service needs are asked to contact DCTA at least five business days in advance of the meeting at 940.243.0077 or dctainfo [at] dcta.net.