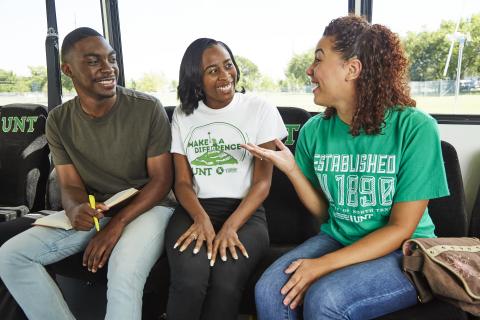 The University of North Texas (UNT) and the Denton County Transportation Authority (DCTA) have entered into a 10-year agreement in which the agency will provide UNT students, faculty and staff with transportation services including bus service, access to DCTA Connect Bus services, Transportation Network Company (TNC) services, and other services determined in the future. The contract will go into effect Saturday, September 1, 2018, and both UNT and DCTA can renew the agreement at the beginning of the third, sixth or ninth year under the initial term for a period of 10 years.
Enhanced Mobility Solutions for UNT's Transportation Program
The agency will assist UNT in its overall transportation program including the development of transportation hubs, innovative technologies, improved service delivery, and enhanced revenue from grants and transportation management associations.
Key DCTA responsibilities outlined in the agreement include, but are not limited to:
Provide all staffing required to operate DCTA services

Supervise and manage DCTA services to ensure performance measures are met or exceeded

Enter into all required contracts for the provision of TNC services or other services requested by UNT

Complete service planning for bus service in coordination with UNT

Be the primary point of contact for all customer service requests for DCTA services
"We at the university feel that the partnership with DCTA has been a success in further developing UNT Transportation alternatives on campus and off," said Allen Clark, UNT Associate Vice President of University Information Services. "We look forward to the next 10 years and all of the transportation changes it will bring for our faculty, staff and students."
Making it Easier to "Get Around"
In addition, DCTA and UNT have partnered to create a "How to Get Around" campaign to educate students, faculty and staff about the various mobility options available to get around the university campus. The educational campaign highlights key routes and services, fare information and promotions people can utilize for their travel needs. UNT students, faculty and staff will continue to have access to DCTA Connect Bus service by presenting a valid UNT ID.
"DCTA is a proud partner of UNT, and we will continue to work diligently with the university to provide innovative mobility solutions that will enable their students, faculty and staff to move in and around campus safely," said Nicole Recker, DCTA Vice President of Marketing and Communications.
UNT and DCTA will continue to work together to ensure accessibility to one of the nation's largest universities.