Highland Village Connect Shuttle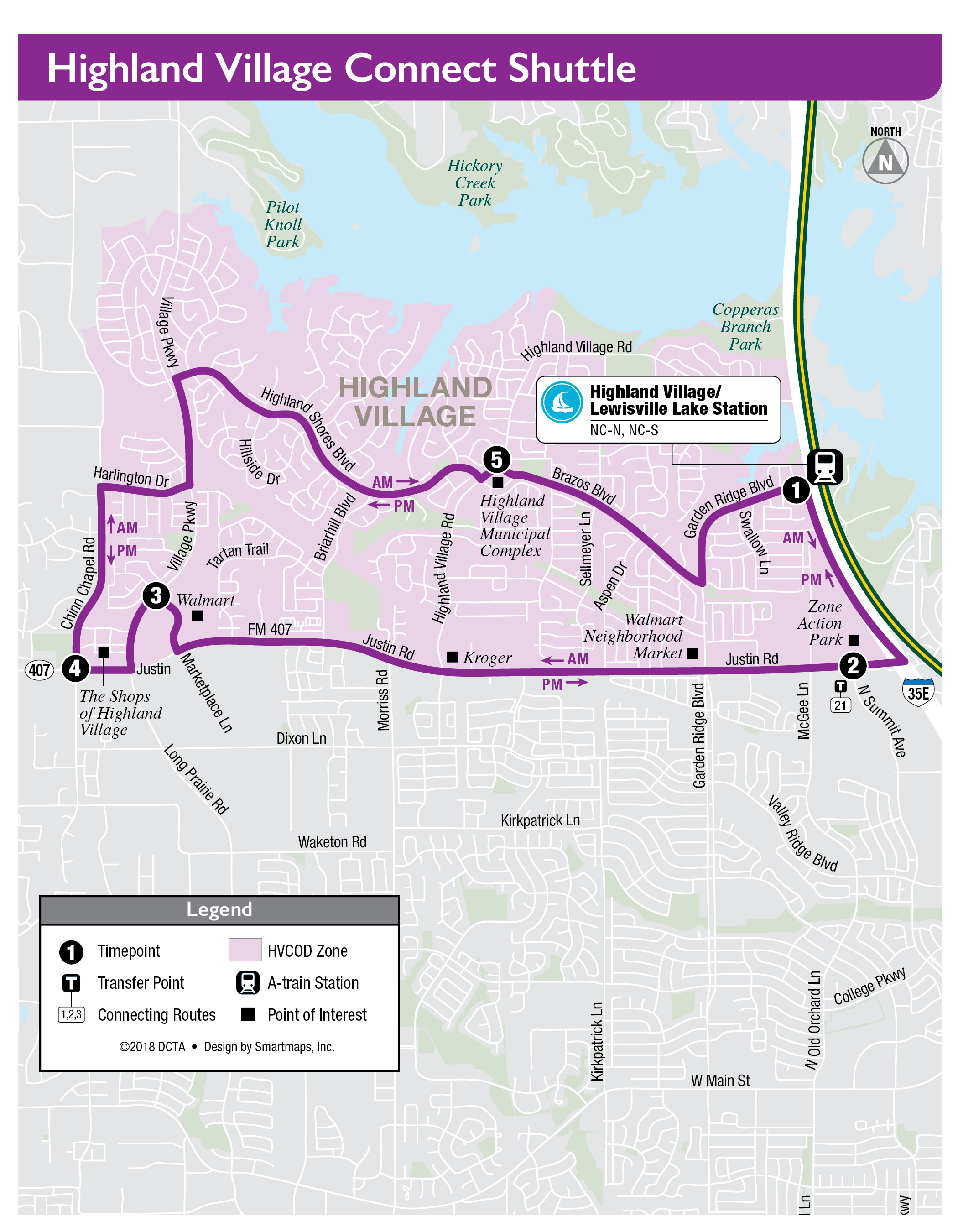 Connect Shuttle is a peak-period bus service offered in Highland Village, Monday through Friday, from 5 a.m. to 10 a.m. and 3 p.m. to 9 p.m. (excluding major holidays). The shuttle serves five main Highland Village locations and has two park and ride options.
Passengers who ride the Connect Shuttle can also connect to other DCTA services such as the A-train commuter rail, Lewisville Connect Bus service and North Central Texas College (NCTC) Campus Shuttle.
How to Ride
Click here to learn how to ride the Connect Shuttle in five easy steps.
***DCTA now offers flag stops for certain areas along the Highland Village Connect Shuttle route. The new flag stops process will allow riders to signal a driver along the existing Connect Shuttle route to board the shuttle without being at an official stop. There will be no flag stopping permitted along the I-35E service road, FM 407 or Village Parkway.
To use the flag stops, passengers should stand in a safe location along the shuttle route and wave to the bus operator. The bus operator will pull over at the safest location closest to the passenger. Riders can use the Connect Shuttle schedule to gauge the estimated vehicle arrival time based on where they plan to wave the shuttle to a stop.***
Acceptable Fare
The Connect Shuttle is open to any rider with exact cash fare of $1.50 for adults or 75 cents for elderly (age 65 or older), disabled or Medicare cardholders and students ages five through 18. Valid ID is required for those who qualify for a discounted fare. Students over the age of 14 require a valid high school or DCTA-issued ID. Valid DCTA Connect and Local System fare, and Regional fare are also accepted.
ADA passengers can ride the Connect Shuttle at free of charge by presenting their DCTA-issued ID. In addition, University of North Texas (UNT) and North Texas Central College (NCTC) students, faculty and staff can ride the Connect Shuttle free of charge by presenting their valid university ID.
Connect Shuttle Schedule
Click here for the Connect Shuttle schedule.
Route and Stop Locations
Morning Route Circulator (5 a.m. – 10 a.m.)
Highland Village/Lewisville Lake Station (2998 N. Stemmons Freeway, Lewisville)

Park and ride location, connecting riders to the A-train and NCTC Campus Shuttle

Summit Road at FM 407

Connecting riders to Lewisville Connect Bus

Chinn Chapel Road at FM 407

Connecting riders to the Shops at Highland Village

Village Parkway at Marketplace Lane

Connecting riders to the Highland Village Walmart and LA Fitness

Highland Village City Hall (1000 Highland Village Rd, Highland Village)
Afternoon Route Circulator (3 p.m. – 9 p.m.)
Highland Village/Lewisville Lake Station (2998 N. Stemmons Freeway, Lewisville)

Park and ride location, connecting riders to the A-train and NCTC Campus Shuttle

Highland Village City Hall (1000 Highland Village Rd, Highland Village)
Chinn Chapel Road at FM 407

Connecting riders to the Shops at Highland Village

Village Parkway at Marketplace Lane

Connecting riders to the Highland Village Walmart and LA Fitness

Summit Road at FM 407

Connecting riders to Lewisville Connect Bus