Connect RSVP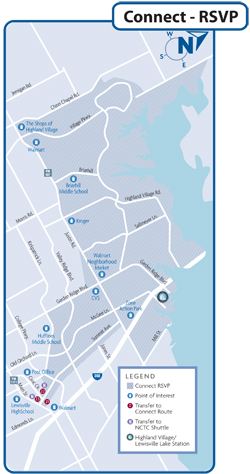 Connect RSVP is a curb-to-curb bus service offered in Highland Village and north Lewisville, and serves the Highland Village/Lewisville Lake Station. Connect RSVP operates Monday through Friday from 5:30 a.m. to 7:00 p.m., excluding major holidays.

Connect RSVP passengers may travel among locations within the designated Connect RSVP zone and are asked to reserve their trip between one and seven days in advance by calling DCTA customer service at 940-243-0077. If a vehicle is not available at the requested time, a customer service representative will offer the closest available time.
Effective Monday, April 4, 2016, DCTA will replace Connect RSVP service with new and improved services that will provide Highland Village residents with more options to travel within the city and connect to other DCTA services.
DCTA will send more specific information to passengers who utilize the Connect RSVP service to best prepare them for the service transition. Click here for more information.