Connect Bus Service
DCTA Connect, local fixed route bus service, operates in the cities of Lewisville and Denton. The routes were configured to provide easy access to many important destinations within these cities. Connect operates Monday through Saturday, excluding major holidays.
System Map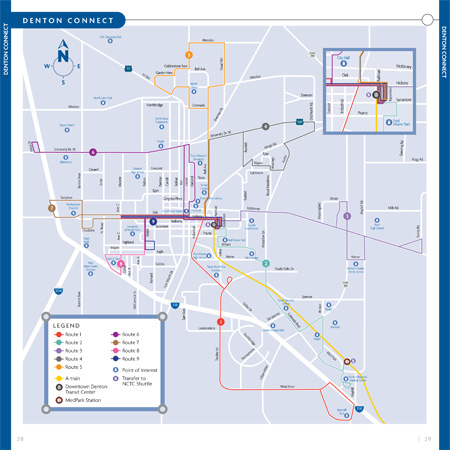 Denton Connect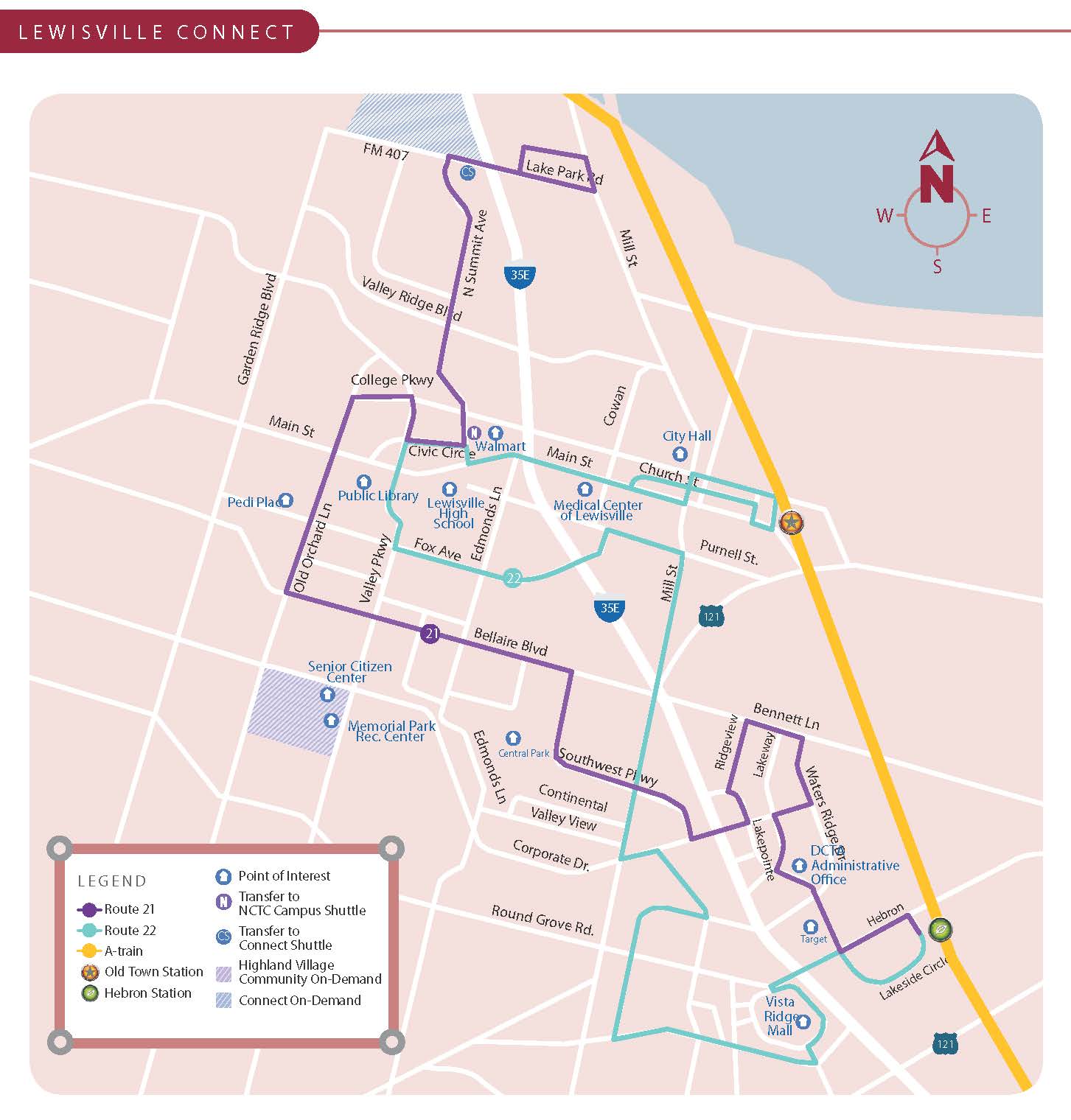 Lewisville Connect
Route Maps & Schedules
Click on the route numbers below to view pages with map and schedule information.
Denton Connect Routes
1 2 3 4 5 6 7 8 9*
*Route 9 only operates Monday - Friday when UNT is in session during the Spring & Fall semesters. No mid-day service. See Routes 7 & 8.
Lewsville Connect Routes
21 22
Popular Destinations
Route 1: Texas Workforce Commission, Cinemark Theater, Denton State School, Jostens, Brookshire, Motel 8
Route 2: Golden Triangle Mall, Veterans Clinic, Post Office, Social Security Office, Walmart (Loop 288), Target, Chick-fil-A, Golden Corral, Kroger, Denton Regional Medical Center, MedPark Station
Route 3: Salvation Army, Food Stamp Office, Department of Public Safety, Ryan High School, Jim and Mary Horn Government Building, Dairy Queen
Route 4: Texas Woman's University, Denton Senior Center
Route 5: North Branch Library, Texas Woman's University, Evers Park
Route 6: Emily Fowler Library, Denton High School, Kroger, Labor Ready, Walmart (University), Health Services of North Texas, Clayton House Motel, Albertsons, WinCo, Post Office (McKinney), Razyor Ranch
Route 7: Our Daily Bread, Courthouse-on-the-Square, Joseph A Carroll Courts Building, Denton County MHMR Center, Texas Health Presbyterian Hospital Denton, Fry Street, Austin Street, Welch Street, University of North Texas
Route 8: Our Daily Bread, University of North Texas, Joseph A Carroll Courts Building
Route 9: Our Daily Bread, University of North Texas
Route 21: Hebron Station, Round Grove Walmart, Budget Suites, Lewisville High School, Civic Circle, Target
Route 22: Hebron Station, Old Town Station, Budget Suites, Medical City Lewisville, Fox Avenue
About Connect Bus Service
Printed schedules/maps with large font are available by clicking here or by calling 940-243-0077.
Please sign up for Rider Alerts to receive information on temporary route modifications and schedule changes.
Connect passes are valid for Denton and Lewisville Connect and UNT Shuttle services only. Transfer slips may be obtained from bus operators at no charge, however may not be used on the same route in the opposite direction. Transfers to Connect RSVP and A-train require a transfer slip and an additional fare.
Connect On-Demand
The Lewisville Senior Center is located within the On-Demand area of Connect Route 21. This area is served Monday-Friday 9:00 a.m. to 3:30 p.m. upon request of the passenger. Passengers wishing to depart the Lewisville Senior Center during On-Demand hours can request a pick up via Route 21 by calling 940-243-0077.