Rail Safety
DCTA is committed to providing safe transportation for all passengers. Engineering, education, and enforcement are top priorities when it comes to ensuring passenger safety, security, comfort, and convenience.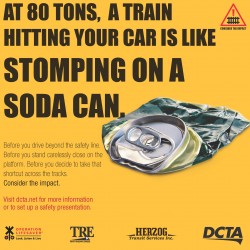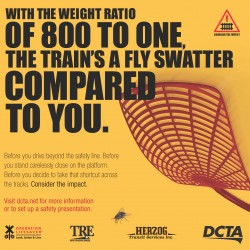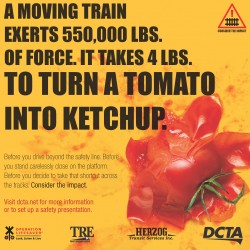 Engineering
In the pursuit of excellence, DCTA consistently offers innovative, effective, and quality public transportation alternatives that exceed customer expectations. The most important commitment of the DCTA is safety through the strict adherence to policies, procedures and ongoing employee training, professional development and engineering.
Safety Components
A critical engineering infrastructure to engineer out individual decision making and to minimize the potential for incidents at rail crossings and along DCTA's rail corridor.
Active warning devices at all 43 rail crossings including four-quadrant gates and gates with medians to reduce the motorist's ability to drive around gates.
Synchronized traffic signals near rail crossings to reduce the queuing of cars across the tracks in partnership with municipalities.
Assessment of corridors to determine areas where there is a high risk of trespassing or incursion into the corridors by motorists.
Fencing and signage along the corridor to discourage trespassing.
A System Safety Plan and an Emergency Response Plan which has recently been approved by the Federal Railroad Administration.
Enforcement
With the launch of the A-train, DCTA has coordinated with local first responders through the A-train Fire-Life Safety Committee. Committee meetings are held on a quarterly basis. The Fire-Life Safety Committee will continue to coordinate drills and training exercises to continue preparing first responders to properly respond to rail safety and security incidents.
Education
DCTA understands the importance of safety and recognizes the need to help educate Denton County communities about being safe while using the A-train and how to stay safe around the rail corridor.
To help get this safety message out, DCTA has developed the RAIL READY program.The RAIL READY program is based on Operation Lifesaver, a national rail safety program. This rail safety education and outreach program focuses on staying off the tracks and teaching community members to "Look Listen & Live." RAIL READY will educate community members and help keep community members safe around the A-train and tracks.
Rail Ready
DCTA developed the "Consider the Impact" campaign to help raise awareness of the dangers of driving and walking too close to trains. Click below to listen to two of the public safety announcements that went out in conjunction with the "Consider the Impact" campaign.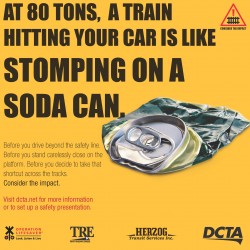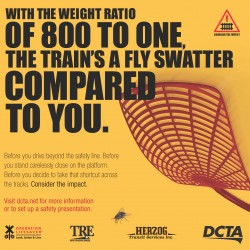 Rail Safety Tips
At all Times
Be aware of suspicious activity, behavior, and packages.
Report individuals who are loitering or tampering with an unattended train, secretively taking pictures of transit facilities, underpasses or bridges, showing visible signs of nervousness, sweating excessively, abandoning a package and hastily departing, and/or wearing inappropriate clothing that is excessively baggy in warm weather.
Report packages that are placed in an out-of-the-way location and/or that have unusual attached batteries, wires, tanks, bottles or bags that might contain chemicals, attached messages, and suspicious clouds, vapors, odors, or seeping fluids.
Call 972-790-0495 to report maintenance and service issues. Call 911 to report emergencies
Before You Board
Always stand away from the edge of the platform.
Do not use your cell phone or other electronic devices when getting on or off the train. Distractions are dangerous, and sometimes deadly.
Do not enter or exit the train until it has come to a complete stop.
Allow passengers to exit the train before you board.
Do NOT enter the track area.
Never place or throw anything on the tracks – this could cause a train to derail.
Do not run alongside a train to get it to stop.
Watch your step, especially at night or in wet weather.
Appropriate fare or pass is required and must be shown upon request. Failure to do so is subject to an administrative penalty or a Class C misdemeanor.
While You Ride
Make room for seniors and passengers with disabilities.
Don't threaten or intimidate riders or operators. It's unlawful.
No food or drink is allowed on DCTA vehicles unless in closed, spill-proof containers.
Only properly identified service animals are allowed on DCTA vehicles.
Practice cell phone etiquette. Turn off cell phone ringers, limit use and speak at low volumes.
Do not engage in loud or profane speech, or act in a manner that is disruptive, threatening or interferes with DCTA's transit operations.
The playing of music is allowed only with the use of headphones that do not disturb other passengers.
Shirts and shoes must be worn at all times.
Smoking is not allowed on DCTA platforms, at DCTA bus stops or inside DCTA vehicles or facilities.
DCTA does not allow unlawfully carried handguns, weapons, or any other item intended for use as a weapon in or on any DCTA facility or vehicle.
Explosives, car batteries, flammable liquids, or other materials considered hazardous by the U.S. Department of Transportation are not allowed in or on any DCTA facility or vehicle, except as authorized by DCTA.
Report any unusual packages or suspicious activity to authorities or DCTA personnel.
Biking
Never bike on railroad tracks.
Look both ways and listen before crossing tracks
Look for flashing headlights and listen for warning bells and horns.
Cross tracks at an angle to avoid tire damage or risk of falling.
Driving
Look both ways and listen for a train when you cross railroad tracks. Always obey all traffic signs and signals.
Wait at least 15 feet behind stop line when waiting for a train to pass.
It is illegal and dangerous to stop your vehicle on railroad tracks. Violators will be ticketed.
If your vehicle stalls on the tracks, get out immediately and move quickly away from the tracks. Call your local law enforcement agency for assistance.
Never drive around lowered gates – it's unlawful and deadly.
Walking
Cross railroad tracks ONLY at designated pedestrian or roadway crossings and obey all warning signs and signals.
Always stop, look both ways, and listen for trains before crossing the tracks.